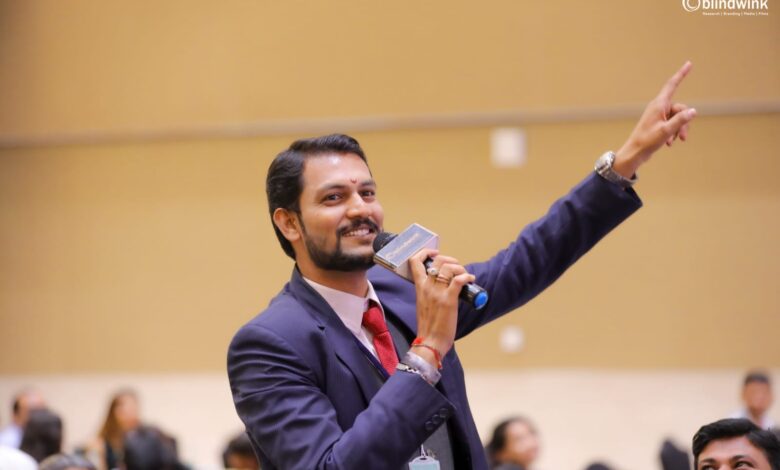 Discover the Inspirational Journey of RRK Revanth: Unearthing the Creative Visionary Transforming India
Bangalore, Karnataka [India]:  In this diverse and bustling country, one name has been quietly but steadily changing the lives of countless individuals. RRK Revanth, affectionately known as Ravi, is a name that has become synonymous with creativity, innovation, and empowerment in the heart of India. With an inspiring journey from the airport tarmac to the world of arts and entrepreneurship, Revanth's story is a proof of what one individual can achieve with determination, creativity, and a heart committed to helping others.
Originally from the historic city of Bijapur but raised amidst the bustling streets of Tumkur and Bangalore, RRK Revanth's journey is nothing short of extraordinary. His academic pursuits have been equally impressive, with degrees including an M.B.A, B.A in Hindi, B.A in English, B.Ed, DIA, and currently pursuing a Ph.D. in Leadership. Ravi's commitment to education and self-improvement is evident in his thirst for knowledge.
In 2014, Ravi took the bold step of leaving his position as a Principal at Siddhartha Group of Institutions to embark on a new adventure. He founded "RRK STARS CREATIONS," a production company and ad agency dedicated to nurturing hidden talents. This venture turned heads in the industry and won multiple prestigious national and international awards, solidifying Ravi's reputation as a creative powerhouse.
"His commitment to empowering the ones in need is exemplified by his establishment of the NGO, Gundurao Shree Rama Rajya Sankalpa Samste, in 2019. This organization focuses on supporting rural students and differently-abled children, ensuring that they have access to the opportunities and resources they need to thrive.
Ravi's achievements have not gone unnoticed, as he proudly holds the titles of India Icon and Icons of Asia Awardee. But beyond the awards, Ravi is a creative business guru who has been helping students and the unemployed become financially independent for over nine years.
In a society where financial independence is a dream for many, Ravi's mission is to make this dream a reality for everyone. His Instagram page, @earnwithrrk, is a beacon of hope for those seeking guidance on achieving financial independence. Whether you're a student or an unemployed individual, Ravi's step-by-step guidance can help you reach seven-digit incomes.
Ravi's commitment to empowering others extends to his "By d people for d people" social media trust, which he started on August 6, 2012. Through this platform, he has posted job opportunities and income-generating prospects, impacting millions of lives. In 2014, he formalized his vision by registering "RRK STARS CREATIONS," which has since evolved into a dynamic video production house, event management company, celebrity management agency, and travel booking service, all under the same roof.
They have recently joined a financial solutions firm, expanding their services to offer convenient and doorstep solutions for all categories of loans ranging from 1 lakh  to 100 crores across India.
As Ravi's influence continues to grow, his message remains the same: "You can achieve your dreams, no matter where you start in life." His journey from the airport runway to the world of creativity and entrepreneurship is an inspiring proof of the power of determination, innovation, and a heart that beats for the betterment of others.
To learn more, please visit  http://www.rrkgroup.in
About RRK Group
RRK Group, founded by RRK Revanth, is a dynamic organization dedicated to empowering individuals, nurturing talent, and fostering creativity. With a diverse range of services spanning from creative advertising to celebrity management and travel bookings, RRK Group is committed to making a positive impact on people's lives and businesses. Through innovative mentorship and guidance, RRK Revanth is paving the way for financial independence and personal growth in India.