Women Entrepreneurs
Meet the Uncrowned queen of bandhej and lehariya, a powerhouse of resilience and determination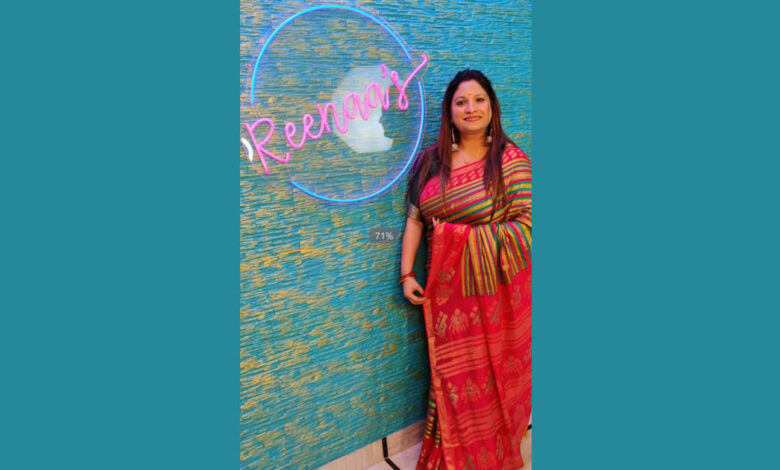 Reenaa Agrawal embarked on an extraordinary journey amidst a challenging lockdown, driven by her determination to preserve the spirit of Royal Rajasthani sarees. With only 10,000 rupees and no digital expertise, she fearlessly entered the fashion world, becoming a guiding force for Bandhej and Lehariya. Using Facebook Live as her platform, Reenaa introduced the magnificent Rajwadi sarees, facing numerous obstacles along the way. Yet, with unwavering determination, she embraced the less-travelled path.
She developed relationships with neighbourhood weavers and accomplished craftspeople during her long search, bringing together their enthusiasm to revitalise the Bandhej, Lehariya, and ghatchola arts. Together, they turned her business into a thriving neighbourhood where Rajwadi fashion thrived. Reenaa's initiative still stands out today as a steward of elegance and tradition. It reminds people through its internet presence that customs may be loved and honoured despite hardship. She motivates us to honour our cultural heritage, buy local crafts, and continue the tradition that has been left for us.
Her collection of sarees has evolved to encompass the richness of traditions from all corners of India. Carefully curated from skilled weavers nationwide, her offerings exude the diverse beauty of regional craftsmanship. Each saree tells a story of love and passion, from the resplendent Kanjeevarams of the south to the intricate Banarasis of North India.
Her brand caters to every budget, ensuring that the enchantment of traditional sarees is accessible to all. Whether one seeks the opulence of silk or the elegance of cotton, there is a saree waiting to reflect their unique style.
Reenaa's journey as a businesswoman showcases the power of resilience, creativity, and the entrepreneurial spirit. She reminds us that even in uncertain times, there are opportunities waiting to be discovered and nurtured. As we reflect on Her remarkable achievements, let her story inspire us to embrace our own passions, take calculated risks, and make the most of the resources and talents available to us. Like her, let us dare to dream, pursue our goals relentlessly, and forge our own path to success.
Connect with Reenaa's Fashion on social media:
Facebook: www.facebook.com/reenaasfashion/
Instagram: www.instagram.com/reenaasfashion/
 YouTube: www.youtube.com/@reenaasfashion